If you knew me at age fourteen, you might not expect that I would become the adult you see before you today, too afraid to say the A-word in case they are real listening. I was a wide-eyed but evidence-craving kid, writing in a daily diary-like school assignment, raving about how "awesome" the SETI@home project and the Arecibo telescope were, hoping we would find alien life. That's right I said it! Alien.
On December 1, 2020, after 57 years in service, the Arecibo Telescope at the observatory in Puerto Rico collapsed. For an actual news article detailing the collapse, NPR has got you covered.
SETI is the "search for extra-terrestrial intelligence" and SETI@home was a screensaver that you could run and presumably help in that search. Although the crowd-sourced data-crunching part of the project isn't still running, it was pretty notable in my life roughly 20 years ago. From the website:
You [could] participate by running a free program that downloads and analyzes radio telescope data.
Once upon a time, before bitcoin, screensavers ruled the world. They were fun, they were exciting, you might even seek out new ones to download and use, then you'd Preview them for minutes at a time, just staring at them. There would be dancing macaroni, Borg ships flying through space, and even flying toasters that you paid for. I didn't understand how it worked, or how my computer could possibly help, but I installed the SETI@home screensaver and then watched it go.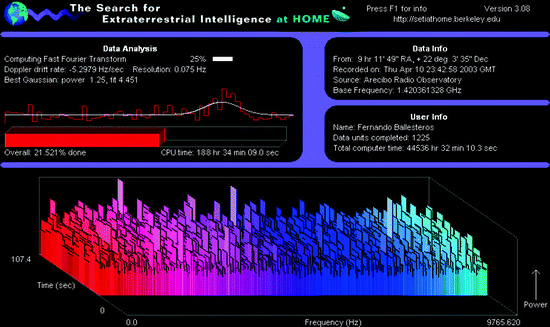 The data that it used was from the Arecibo Observatory. I read about that observatory and thought it was "awesome" as I dutifully wrote in my social studies notebook. Yesterday, I found this wacky fun fact on wikipedia, which could be among the reasons I liked it:
Observational data are recorded on 2-terabyte SATA hard disk drives at the Arecibo Observatory in Puerto Rico, each holding about 2.5 days of observations, which are then sent to Berkeley. Arecibo does not have a broadband Internet connection, so data must go by postal mail to Berkeley.
It was also Puerto Rican, like me! I was really proud of that. Later, when we went to Puerto Rico and visited some family, I asked my parents and sister to go and felt so lucky that I was so close! While we were limited on time, we made sure to see El Yunque National Forest and the castillos. We also walked from house to house along a hill, meeting cousins, drinking soda, and playing dominos. But I was also going to see that telescope and I didn't care HOW far it was.
I cared. I immediately cared. It was so far away from everything else. I was a cranky tween. We all had to cram into a relatively small car. I was never good in cars. Somehow, every time I've ever traveled I also had my period.
But once we were there, well it was "awesome." It was enormous and impressive and although I'm already a very silent person, I was speechless.
Like many childhood stories, it ends embarrassingly. That very school assignment where I wrote about how the screensaver and SETI were "awesome" had a circled check-mark on it when it was returned. As I smiled to myself, the worst happened: the teacher asked me, an unsmiling depressed young teen in a ripped hoodie, to read it aloud. To tell everyone what I thought was fascinating and impressive, and that it was a screensaver.
I still think it's awesome. RIP.